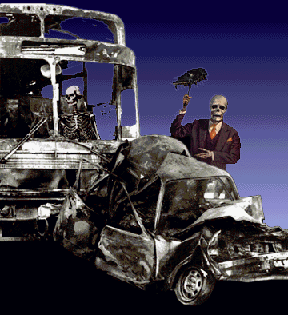 © Copyright Raven Entertainment 1997, 1998
Trauma Code takes the reader on a journey through Twisted Metal, Human Carnage, and wasted lives. Trauma Code rolls back the crimson stained sheets and exposes for all to see what Human Carnage looks like. Trauma Code contains more than 130 photos of Death and Gore, spanning from the late 1950's through the present, Trauma Code explores sudden, violent death in many of its most gruesome forms. Follow Firefighters, and Rescue workers on the front lines of automobile wrecks, plane crashes, and train wrecks, evisceration's, decapitations, drownings, murders, fires and burned corpses, and more.
Raven Entertainment's "Trauma Code" is an extremely graphic book containing Death and Gore which depicts some of the most violent deaths known to man. All the photographs in Trauma Code were taken on fatality calls only. Many of the photographs in Trauma Code were taken by off duty firemen. Trauma Code is a must have for the serious Death and Gore collector. There are few books on the market today that contain such a wide variety of Human Carnage and Twisted Metal in its many forms. Call your local book retailer today or order your copy direct from Raven Entertainment.