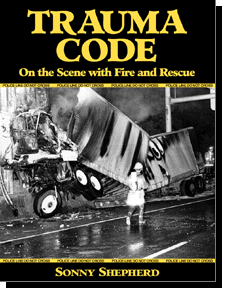 Click the
for a Preview
U.S.
- ISBN# 0-9655450-6-7
FREE Shipping to U.S. Address
TRAUMA CODE TAKES THE READER ON A JOURNEY THROUGH TWISTED METAL, HUMAN CARNAGE, AND WASTED LIVES. TRAUMA CODE ROLLS BACK THE CRIMSON STAINED SHEETS AND EXPOSES FOR ALL TO SEE WHAT HUMAN CARNAGE LOOKS LIKE. TRAUMA CODE CONTAINS MORE THAN 130 LARGE PHOTOS OF DEATH AND GORE, SPANNING FROM THE LATE 1950'S THROUGH THE PRESENT, TRAUMA CODE EXPLORES SUDDEN, VIOLENT DEATH IN MANY OF ITS MOST GRUESOME FORMS. FOLLOW FIREFIGHTERS, AND EMS RESCUE WORKERS ON THE FRONT LINES OF RESPONSE CALLS, INCLUDING:

DEVASTATING AUTO WRECKS

PLANE CRASHES

TRAIN WRECKS

TRESPASSER FATALITIES

DROWNINGS

MURDERS

FIRES

& MORE!